Please call for sizing and availability
• Improved rubber quality in boots. Five times more abrasion resistance.
• Soft and flexible neck ring "Quick Neck" from SI TECH. Fits; Silicone, Latex and Neoprene neck seals.
• New fabric on the front panel. Features softer feeling and is extreme durable to abrasion.
• The new 50 Denier 3D mesh inner lining features softer feeling and more flex thus enhanced comfort.
• New construction on Suspenders offers far better and easier adjustment.
• All Velcro tabs are more flexible, with much better grip in TPA.
• New construction on the leg pockets. Stainless D-ring, replaced standard D-rings with two loops each.
0 reviews for D1X Hybrid Drysuit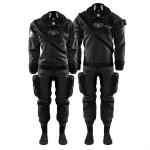 MORE CHOICES AVAILABLE
Waterproof
$3795.00
MORE CHOICES AVAILABLE
Waterproof
$2650.00